"Anniversary Blog: Speaking To The Moment" by Stephen Komarnyckyj


On 24 February 2022 Kyiv, the capital of Ukraine, was struck by missiles and Russian troops, who had occupied part of the country's Donbas region and Crimea in 2014, crossing the border. Russian state TV had been flooded with genocidal rhetoric for weeks, with threats to burn Ukrainians alive and claims that Ukraine did not exist as a nation. The Russian army tried to seize Kyiv and Kharkiv, occupying the southern port city of Mariupol. In areas where they had been forced to retreat, mass graves with hundreds of bodies, including the corpse of the poet Volodymyr Vakulenko, have since been exhumed. Mariupol is still occupied, but it is believed that as many as one hundred thousand people may have died at Russia's hands in that city. Many are entombed in the demolished ruins of the apartment blocks they once dwelled in. Yet, in the face of what historian Timothy Snyder stresses is a genocidal war on the Ukrainian nation, the country's poets have shown that art can deal with absolute evil. The contemporary authors presented in out Stanzas for Ukraine series have nearly been hit by missiles, have seen their home-towns occupied and their contemporaries interned and yet still, they write.



Their resilience is in part due to Russia's long war on Ukraine which has involved over three centuries of occupation and linguistic repression. Ukrainian was banned for long periods in the Tsarist and Soviet periods. Many Russian authors including Brodsky and Nabokov to Gorky expressed contempt for Ukrainian culture. This is in part because Rus', the medieval country whose name, history and legacy Moscow began to claim from the fourteen hundreds onwards, was centred in Kyiv. Many Russians simply see Kyiv as Russia and the existence of Ukrainians, whose language derives from Rus', as an aberration: this land should be occupied by Russians and Ukrainians are simply Russians who are labouring under a misconception. These views resulted in the murder, suppression and forced exile of many Ukrainian writers over the centuries. Yet still they wrote, and the choice to write in a language whose very existence challenged Russian imperialism resulted in some of the most experimental literature produced in East Europe. Yet, due to Russia exporting its view of Ukrainian culture as derivative, second rate inferior, their work remains largely unknown.


Stanzas for Ukraine has helped ensure that, during this further attempt to destroy Ukrainians as a nation, the work of contemporary Ukrainian writers responding to the conflict will not be ignored. Historically the world largely overlooked the work of Ukrainian authors like Panas Myrnyj, Taras Shevchenko, Lesya Ukrainka and Olha Kobylianska who challenged Russian imperialism in previous centuries. The destruction of a Ukrainian literary generation, the Executed Renaissance, by the Soviets in the nineteen thirties attracted little notice in the West: the accompanying extermination of millions of Ukrainian peasants and mass executions of Ukraine's intelligentsia were similarly ignored, and fallacious justifications promoted in the decades that followed. Ukrainians understood that having successfully evaded censure for genocide in the past, Russians would attempt to destroy them in the future: and so, it has proved.


But this time it will be different. When the Ukraine fell in November 1921 it had not managed to establish a state and an army robust enough to withstand a Russian attack. Some Ukrainians even fought alongside the Bolsheviks, whose leaders included Communist Ukrainians dreaming of a red Ukraine. That communist Ukraine did indeed come to pass, but it was in effect an occupying regime which soon succumbed to Russia's priority of assimilating and destroying Ukrainians.



The current Ukrainian state has a more effective army, based on an overwhelmingly unified nation, and the support of most of the world which is finally beginning to understand Russia's colonialism and hear the voices of its victims. Ukrainian poets and artists are beginning to be published on a previously unknown scale. Stanzas for Ukraine is an important part of this global effort to preserve a culture which a larger, more powerful nation wants to destroy. Ukrainian books are being burned in areas occupied by Russia: but the web will allow the poets presented in this series a kind of immortality. Their work too bears an important witness to what happened particularly when Russia, like Hitler did so many years before, is claiming that it wages war to protect its ethnic communities abroad.


Above all it testifies to the power of poets to create beauty in the face of absolute evil and that is an important act at this time, a flame affirming the possibilities of life against utter darkness.


I thought about which poems should accompany this blog for a long time. We have presented the work of living poets but who will speak for the dead? Let the dead speak for themselves or, as must always be the case when transporting literature between languages, let a translator try and evoke their voice. I chose a poet who is almost unknown in the West, Lada Mohylianska, and who wrote most of her work in the camps where she was a slave labourer, punished for the crime of speaking the truth.


I thought too that I would try and convey something of how I experience the war as a person who is linked to Ukraine, but cannot ever really know what it is like to see the missiles flying overhead and know that tens of millions of people in the neighbouring country want to wipe your language and identity off the face of the earth. Yet this is also part of my identity too, a culture and a literature which I devoted much of my life to promoting and to my family and friends who might be killed. Russia is currently launching a new offensive with hundreds of thousands of soldiers and if it succeeds, there will be no more Ukraine, and the Ukrainian people will be eradicated from Ukraine. My poems are a plea to hear them, they are about family and friends: the poet I present alongside them is a voice from the past, representing poets who died previously at the hands of Russia, but whose work speaks to this moment.



Poems by Lada Mohylianska

Я НІ З КИМ НЕ ПІДУ ДО ПИВНИЦІ

Я ні з ким не піду до пивниці,
Де пляшки наче очи медуз,
І нікому в диму не присниться
Хижий усміх фарбованих уст.
І ніхто, і ніхто у мій келих
Бурштинових хвилин не наллє,
І нікому мій голос веселий
І нікому горіння моє…
А коли у задумі вечірній
Розгойдається кожний ліхтар, —
Замаячать у хаосі тіні,
Наче тіні потворних примар…
І між ними химерною тінню
Промайну зачарована я,
І нікому привіту не кине
Золотая утома моя.



I WON'T GO TO THE BAR WITH ANYONE,

I won't go to the bar with anyone,
Where the bottles are like Medusa's eyes
Or appear through smoke, a dream
A cunning smile on painted lips.
And no one, no one will pour
Into my goblet minutes of amber
Or no one hear my voice happy
And no one my sorrow too.
And when each lantern sways
In its evening musing,
Shadows looming in chaos
Like shades of deformed nightmares,
A chymerical shade between them
I will pass
And my gilded weariness will cast
No one a welcome.




Він проїхав повз мене на коні вороному…

Він проїхав повз мене на коні вороному…
Гинув вечір нечутний в обіймах зелених,
В буйних травах губилася стежка додому…
На коні вороному повз мене…
На коні вороному… повз мене…


Без думок до плетня притулилась грудями…
Під стальовим копитом шляхи не курились.
Спали верби приспані сутінків піснями…
Без думок до плетня прихилилась…


Коло обрію вежі не знали спочинку…
Чи то сонце в очах запалило пожежу?
Чи то бог молодий, чи просто людина?
Коло обрію мури і вежі…


Він проїхав і зник на коні вороному…
В росах трави заплакані буйно-зелені…
Сонна стежка покликала тихо додому…
На коні вороному… повз мене…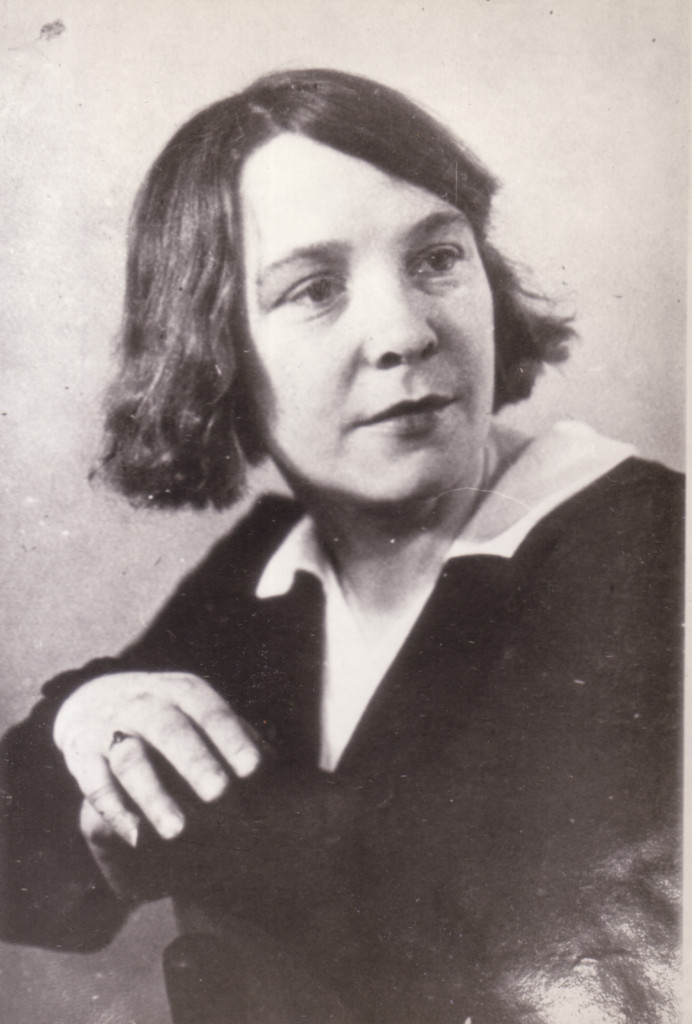 On A Black Horse


He rode past me on a black horse
The evening died unheard in green embraces
The way home was lost in the lush grass…
On a black horse past me…
On a black horse… past me


Thoughtlessly I leaned, my chest against the fence
The paths did not smoke beneath a metal hoof…
The williows slept, lulled by the songs of twilight
Thoughtlessly I leaned against the fence


The towers on the horizon knew no rest…
Or was it the sun kindling fire in the eyes?
A young god or simply a man…?
Walls and towers around the horizon…


He rode away, vanished on a black horse.
Tears of dew on the lush grass…
The drowsy path quietly calls us home…
On a black horse me he rode past.





Poems by Stephen Komarnyckyj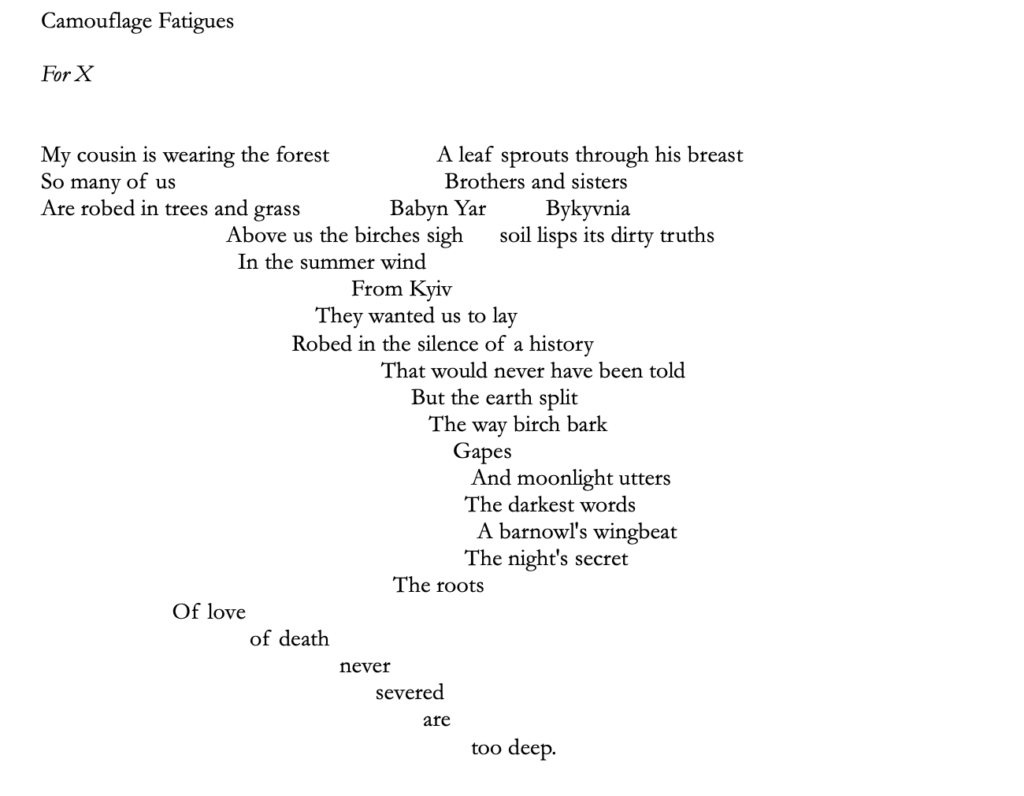 Bombshelter

For X1


You show me your bombshelter in your phone's flashlight
The bare brickwork of your cellar
Pitted by the erosion of years seems lunar
And you in my computer screen distant too as the moon while the light picks out a stove a tap
This is where you will sleep

And where you wait now for the all clear

And now you sit in the dark though the sun designates the village streets
Where the ghosts of medieval Tatars
Are still glimpsed in the angle of a cheek or your friend's Uzbek face
Yes he said this is Kompromat
On you
So long ago before the missiles unzipped the silk of sky
What is it that I would say

Where is Wanda I ask, my Aunt
It turns out
Has run a bath

And suddenly though I want to cry
We are both laughing.



Stanzas for Ukraine: Let's Write with Ukrainian Authors


In the manner borrowed from the Poetry School's 'Transreading' practice, this blog series invites us to write in conversation with Ukrainian authors. Our close readings and our new texts are also gestures of our support and appreciation. As writers, we too can learn from our Ukrainian colleagues and their international translators.

'where the bottles are like Medusa's eyes'


Invitation to write by Elżbieta Wójcik-Leese


'Let the dead speak for themselves' – Stephen Komarnyckyj answers the question posed by his anniversary blog: 'who will speak for the dead?' And he chooses one dead to speak for the many: Lada Mohylianska. Her poem entitled 'I won't go to the bar with anyone' is a manifesto of resistance, a refusal to participate, a protest. Think back to your own decisions not to participate. How can you best convey one of such experiences (in your own voice, in the voice of your chosen protagonist)? Is the scenario of refusing to go to the bar adequate? If so, what props will help you to explain why such a refusal is justified: are there also bottles with Medusa's eyes? What other features make this bar hideous and repulsive? If rejecting the invitation to go to the bar is not enough for you to express your resistance, what alternative scenarios would help you to voice your protest against something?


You're always welcome to invent your own writing games in response to the presented poems. Share your texts with our writing community here.


The sixteen previous invitations to write can be found here.


Invitation to Donate



This project aims to support refugees displaced by the conflict through raising funds for the World Central Kitchen. Please consider donating via their site here.