Welcome to our Forward Prizes 2023 'How I Did It' series. This year we asked the poets shortlisted for the Forward Prize for Best Single Poem (Written) to write about the inspiration behind their chosen poem. Here's Kathryn Bevis on what inspired her to write 'My body tells me that she's filing for divorce.'



On the 31 January 2022, examining my breasts in the bath, I discovered a slight thickening of tissue in my left breast. Afterwards, standing in front of the mirror, I found a tiny indentation near the nipple. Even though she could find no discernible lump, my GP was wise enough to refer me urgently to the breast clinic where the first surgeon to examine me said he was sure I had breast cancer. This was confirmed by initial scans. After many weeks of waiting, further scans, biopsies and appointments, I was told in late March via video link that my breast cancer had already spread to my liver, that it was inoperable, and that I was now a palliative-care patient with a prognosis of months to years.


It was an unnerving time. In many ways, it felt as though I was riding a perpetual ghost train with spooks and cobwebs and shrouds waiting for me at every turn. Strangely, I also felt that I was living in a luminous sphere: fully awake to the gift of my life, sensing how deeply I was loved by those whom I love, and in love with my body afresh (a body which, in my well time, I'd always wanted to make thinner, less clumsy, more conventionally beautiful).


'My body tells me that she's filing for divorce' was the first poem I wrote during this time. Writing it gave me a new way to think about what was happening and, in doing so, it released me to begin a grieving process for a life I love very much.


My body tells me that she's filing for divorce



She's taken a good, hard look at the state
of our relationship. She knows it's not
for her. The worst thing is, she doesn't tell
me this straight up or even to my face. No.
She books us appointments with specialists
in strip-lit rooms. They peer at us over paper
masks with eyes whose kindness I can't bear.


They speak of our marriage in images:
a pint of milk that's on the turn, an egg
whose yolk is punctured, leaking through
the rest, a tree whose one, rotten root
is poisoning the leaves. I try to understand
how much of us is sick. I want to know
what they can do to put us right. She,


whose soft shape I have lain with every night,
who's roamed with me in rooky woods, round
rocky heads. She, who's witnessed the rain
pattering on the reedbed, the cut-glass chitter
of long-tailed tits, the woodpecker rehearsing
her single, high syllable. How have we become
this bitter pill whose name I can't pronounce?


Soon, she'll sleep in a bed that isn't mine.
That's why, these nights, we perform our trial
separations. She, buried in blankets, eyelids
flickering fast. Me, up there on, no — wait —
through the ceiling, attic, roof. I'm flying, crying,
looking down. Too soon, I whisper to her warm
and sleeping form. Not yet. Too soon. Too soon.


Usually, a poem will take me weeks and months to write and research, edit and hone until I find what it really wants to say, where it wants to take me. This poem was different. It arrived almost whole. The title came first and, as I wrote, it felt clear what the poem wanted to be: a love poem to my body; a breakup poem articulating my sense of its betrayal; a celebration of everything we've witnessed and experienced together and a howl of anguish at everything we're losing. Many of these impulses are contradictory in the way that the motivations and desires that drive a marriage are contradictory. Writing 'My body tells me that she's filing for divorce' taught me again that a poem is itself an embodiment: a small form capable of holding vast, uncertain states, confusions and instabilities.  


In terms of craft, the central conceit of a marriage between the body and self lends the poem much of its poignancy. The conceit conveys both a deep sense of loss and, in its insistence of love in the face of mortality, it enacts a refusal of the battle metaphors which often predominate writing and speaking about cancer and its treatment. The language which I have swiftly become surrounded by, that of 'courage,' 'strength,' and 'beating cancer' is not for me. While I have respect for those who feel empowered by using this language when describing their own or their relatives' disease process, particularly if they have a survivable cancer, I don't want to go to war with my body. For me, it feels closer to the truth to describe the relationship of the body to the self as an affair of the heart, a marriage in which both partners, who consider themselves inseparable, promise themselves to the other "…until death do us part."


Within the poem, there are autobiographical, descriptive elements: the 'strip-lit rooms' in which Ollie and I sat waiting for results, the consultants' inability to do much for us save 'peer at us over paper / masks with eyes whose kindness I can't bear', and the new vocabulary of diagnosis and treatment with which I had quickly to acquaint myself: 'this bitter pill whose name I can't pronounce'. I was in new territory, needing to learn and understand the simplest things about my disease, to feel my way into the new shape my life had taken. For this reason, I wanted to invite into the poem some of the incongruous images that various medics offered up to help me visualise my cancer: 'a pint of milk that's on the turn, an egg / whose yolk is punctured, leaking through / the rest, a tree whose one, rotten root / is poisoning the leaves.'


The poem is attentive to hearing, taste, and sight; it's about a body but it's also embodied itself in the way that it asks the reader to engage with their own senses. This is the reason that the third stanza is so densely populated with another list of images, this time drawn mainly from the natural world. When I'm out walking either in the local woods or further afield, I like to collect phrases and images of this sort in a notebook to pull out when a poem needs them. I also like to keep a folder of images on my desktop, broken up for scrap from ailing or failing poems: 'rooky woods' and 'rocky heads' came from these scrappy notes as did 'the rain / pattering on the reedbed, the cut-glass chitter / of long-tailed tits, the woodpecker rehearsing / her single, high syllable …' I'm a big believer in this form of recycling and enjoy being resourceful, thrifty even, wasting little.


The poem's final conjuring of a dream flight — in which the imaginative, active self drifts away in a 'trial' separation above the diseased, fatigued body, 'buried in blankets, eyelids / flickering fast' — afforded me a way to depict the experience of anticipatory grief, whereby we begin to mourn the loss of someone or something that hasn't ended yet.



My desire to speak directly, simply and lovingly to my body's 'warm / and sleeping form', is everywhere in this poem. For this reason, at its coda as elsewhere, I've gravitated mostly towards monosyllables, low register diction, and towards individual words that find their roots in Anglo Saxon ('sleep … bed … soon … fast … whisper … warm'). This need for clarity and restraint at the language level is motivated by the elemental, animal intimacy I share with my body and from a newly sharpened understanding that she is my world: I cannot manage to live without her. In its closing lines, the containment of the poem, the safety of its confines, finally allow me to stand outside myself and beg my body to give me the impossible, more time: 'Not yet. Too Soon. Too soon.'


Find out more and purchase Kathryn Bevis' debut collection Flamingo here.


---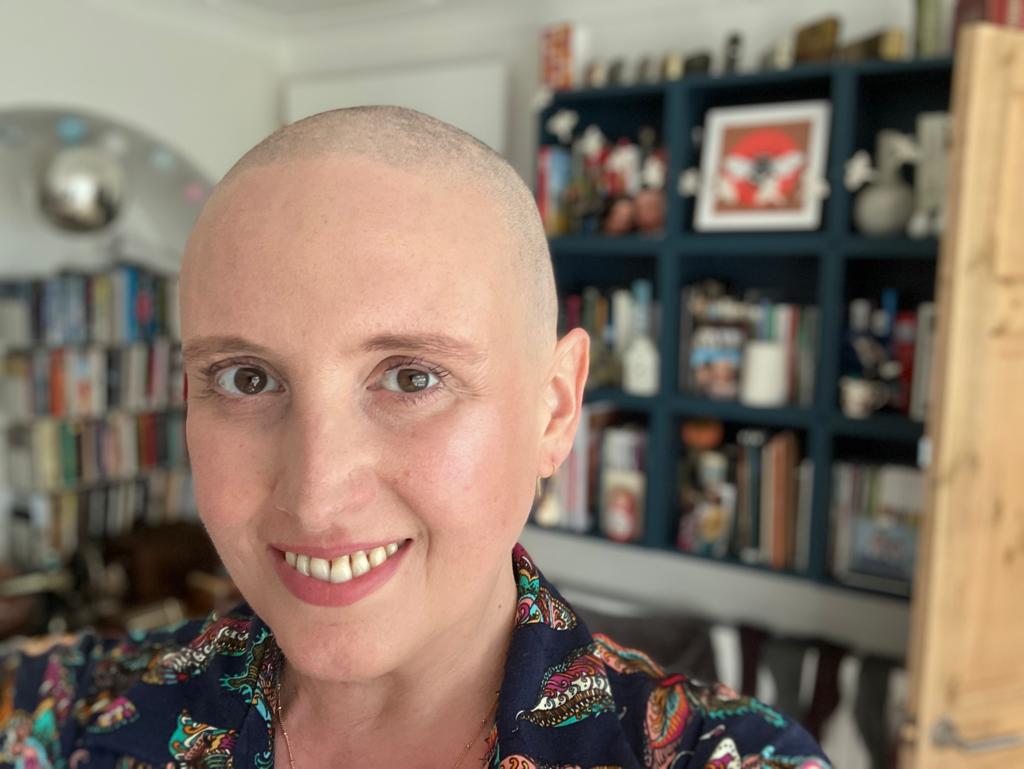 Kathryn Bevis is a prize-winning poet, founder of The Writing School Online, and was Hampshire Poet 2020-21. Her poems have appeared widely in magazines and journals including: Poetry Review, Poetry Wales, Mslexia, The London Magazine, and on BBC Radio 4.