Tell us about your workshop
Rishi: Postcards, of all shapes, sizes and hues, were some of the first things I ever collected – I used to have scrapbooks filled with them, and I rather hope their still in the loft at my parents' house. My mania for them might have subsided over the years, but my delight in them hasn't, and more and more, I find myself using them to scribble notes to people, spending almost as agonisingly long worrying that the image on the front is right, as much as much as the words on the back are correct too. Recently, I've started a poetic correspondence with a friend, with the wheeze that the poems have to fit on the back of a postcard. That seemed like a fun idea to explore more in a workshop – how a small space might liberate creativity.
Does travel broaden the mind?
Rishi: I'm not sure that 'broaden' is the right word – stimulate is better, I think. Even if you've been on one of those relaxing, do nowt sort of trips, I think you're always going to come back with one or two ideas, or at least a new way at looking at something.
Going anywhere nice on your holidays this year?
Rishi: Just been! Lyon in France for a few days, and then hopefully a gallivant up to Glasgow before year's end.
What's on your holiday reading list?
Rishi: Well, on the Eurostar I took with me a friend's excellent unpublished novel (agents, drop me a line!) and Alan Hollinghurst's The Line of Beauty. Both fun ways to not look at the passing French countryside.
Book your place on Rishi's workshop, Poetry Postcards, Tuesday 22nd July 2014, 10:30am-1pm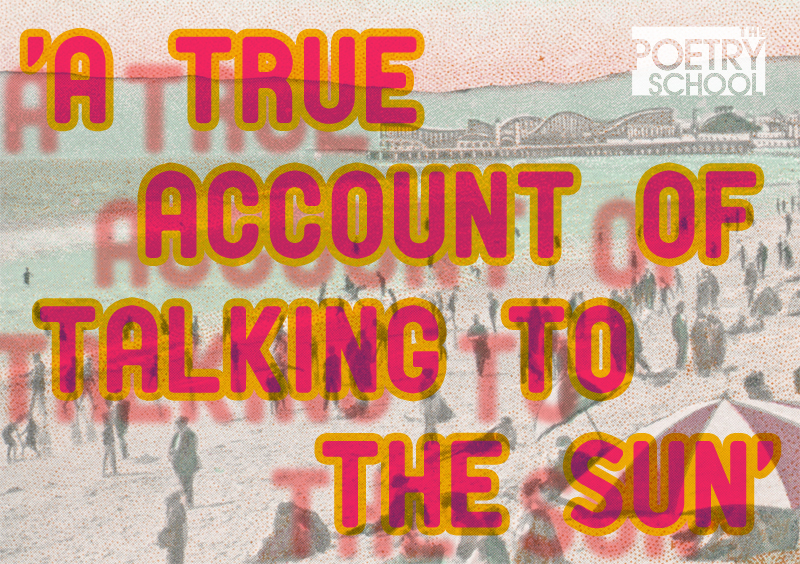 A True Account of Talking to the Sun: a poetry summer school
21 July – 25 July 2014
A full programme is available here. To book, visit www.poetryschool.com or ring 0207 582 1679