Hi John, your new course with us is called Ransacking the Museum. Could you tell us a bit about it?
I can indeed! The course is in two parts. The first day involves everyone thinking together about museums and looking at a number of poems inspired by artefacts. This is followed by a rather exciting group outing to the Natural History Museum where the writing exercises will involve going round with a notebook and engaging with specific exhibits. There's then a gap of a month between this and the second day in which to write poems in response, and we'll be workshopping these pieces when we all meet up again.
You've mentioned in several previous interviews that two of your favourite writers are August Kleinzahler and Frank O'Hara, both of whom worked in museums: Kleinzahler at the Alaska State Museum, and O'Hara, of course, at the Museum of Modern Art. Is there something about museums that encourages creativity? Reflection, or stimulation, perhaps?
Yes, both of those. I've always been inspired by the physicality of objects, by the suggestiveness of small details of colour and texture, weight and smell. There's a particular energy generated by being in close proximity to exhibits in a museum that transcends what you might get from, say, a photograph. There they are undeniably, right in front of you, sharing your space. You interact with them in a much more intimate way.
You were commissioned by The British Museum to write your poem 'Antinous' about the emperor Hadrian's lover, and the bust of him that the museum holds in its collection. How do you go about bringing to life historical figures? I know this was also a consideration in your first book, The Frost Fairs.
It's different for every poem. Each project brings its own demands in terms of what you want to do with the particular figure in question, and usually I don't know exactly what angle I'm going to take when I first sit down to write. There's always an element of investigation, of trying out a range of perspectives to see what will work this time. Research in libraries, museums, archives and the like can help though I have to be careful not to use too much of it. I have a particular interest in imagery and phrase-making and often it's a case of freewriting and stumbling upon an image or a string of words that seem to contain some kind of mystery and promise that means I keep going back and trying to unlock them, even though they may not ultimately appear in the final draft.
In Spacecraft, your second book, you have a sequence of poems on now-obsolete words from Johnson's dictionary, like 'Flittermouse' for a bat. How does research fit into the composition of poems like this?
Often I research an area initially just because it gives me pleasure rather than pursuing a specific idea in a very focussed way. I have a certain faith that if I plunge in and keep my mind and ear open then eventually the process will bear fruit. I can only write on what I'm passionate about. I've always had a love of vanished words and etymologies and have many books at home on these subjects. I came across Johnson's definition of 'flittermouse' and that poem emerged first of all simply because I enjoyed the sound of the word and the nuances of how it captured the essence of a bat. This led to me thinking about what happens when we vocalize a word for the first time and overhear ourselves, and how lost language is connected to all these other practices of the past that come briefly to life again when the word is spoken aloud. Once I'd written that piece, it led me to pursue obsolete words in a more thorough way and it came to be a dominant strand in Spacecraft which is a book that concentrates very much on absence and emptiness as creative forces, as things which generate possibilities. That first poem 'Flittermouse', however, came about in a very pure way just through probing my delight in the word.
Bats and historical records bring us nicely to the Natural History Museum. What is it about the NHM particularly that makes it such an inspiring place?
Whenever I think of the word 'museum', the image that comes to mind first is a diplodocus skeleton. For many people in the south of England, it's the first museum they fall in love with, and it retains something of that wonder into adulthood. The collections are also always being updated and they illuminate the living present. They explore the workings of the human bodies we inhabit, how we came to exist in the first place and the connections between us and all these other organisms on the planet that are still around us today. Writers have always found animals in particular irresistible as analogues for human impulses and relationships, and the Natural History Museum presents you with a dizzying variety of beasts.
Dippy or Blue Whale?
Dippy will always be the first, but that doesn't mean there isn't space in my heart for Blue Whale too.
Finally, what are you up to at the moment?
Spacecraft is coming out as an e-book so I'll be doing more readings to promote that. Otherwise, I'm in that blissful state of exploring new territory for the next collection. I'm always keen to do something radically different to my last project, to take risks. I'm writing lots of bouncy, urban poems at the moment that are very different to Spacecraft, all quite upbeat. We'll see how it goes…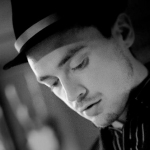 John McCullough's first collection of poems The Frost Fairs won the Polari First Book Prize in 2012 and was a Book of the Year for The Independent. His new collection Spacecraft explores absence and emptiness as creative forces. It was named one of The Guardian's Best Books for Summer 2016. He lives in Hove and teaches creative writing at New Writing South and the Open University.